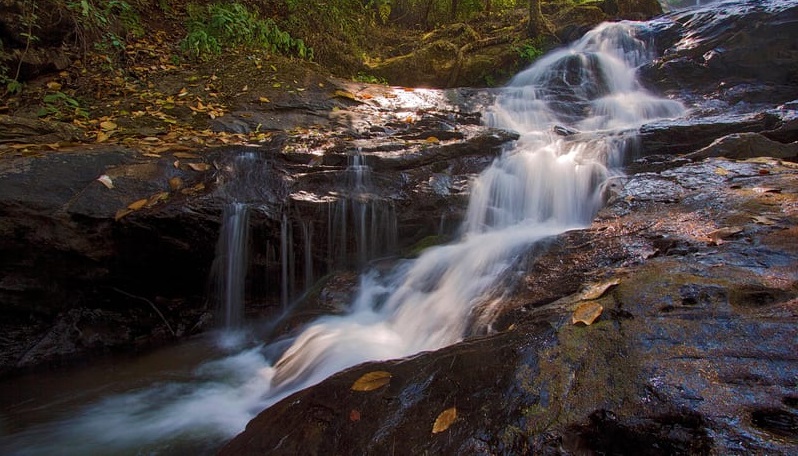 There are an array of places to see in Coorg including large stretches of coffee plantations and mystic hills. What attracts tourists the most are the spectacular waterfalls which put up scenic landscaped views along with the lush greenery around. The sight of water rushing down the green forested hills is breathtaking especially in the monsoons when the falls are highly water fed.
1.Abbey Falls – Abbey Falls is a perfect view with being nestled amidst large stretches of spices and coffee plantations. It is a perfect sight of white water falling off a cliff of 70 feet high. There is a small bridge built for visitors to get a better view of this magnificent fall.
Iruppu Falls – Nestled in the Brahmagiri Hill, Iruppu Falls is a sight of freshwater fall from an elevation of about 170 feet with lush greenery all around. It is an ideal picnic spot along with being one of the favorites for trekking and camping enthusiasts. This waterfall is holy for the Hindus and is visited by devotees each year.
You May Also Like: Cafes In Bangalore To Hangout With Friends
Mallalli Falls – Mallalli Falls is a beautiful sight nestled amidst lush greenery at the foot of the Pushpagiri Hills. Owning such a location is makes for a wonderful trekking and camping attraction. It mostly dries out during the summers but is a sight to adore during the monsoons with the falls being well water fed.
Chelavara Falls – Chelavara Falls is quite a known tourist attraction owing to its size and magnificent view. The water of the falls drops down at a tortoise resembling piece of rock because of which it is also known as Emepaare, locally. The access to the falls has been restricted by the government as several recent accidents had been witnessed here but you can relish the view from a distance for sure.
Burude Falls – Burude falls is a magnificent sight of water heading down in 5 steps through narrow creeks surrounded by lush vegetation around. Also popularly known as Dodmane falls, reaching this particular tourist attraction involves a bit of trekking. This is one such destination which is never too much crowded even during the peak season.